Do you have basic sewing skills?
Then why don't you get a hands-on making your version of our boxy top yourself? Join us at our Brussels atelier and create a personalised piece to match your unique style.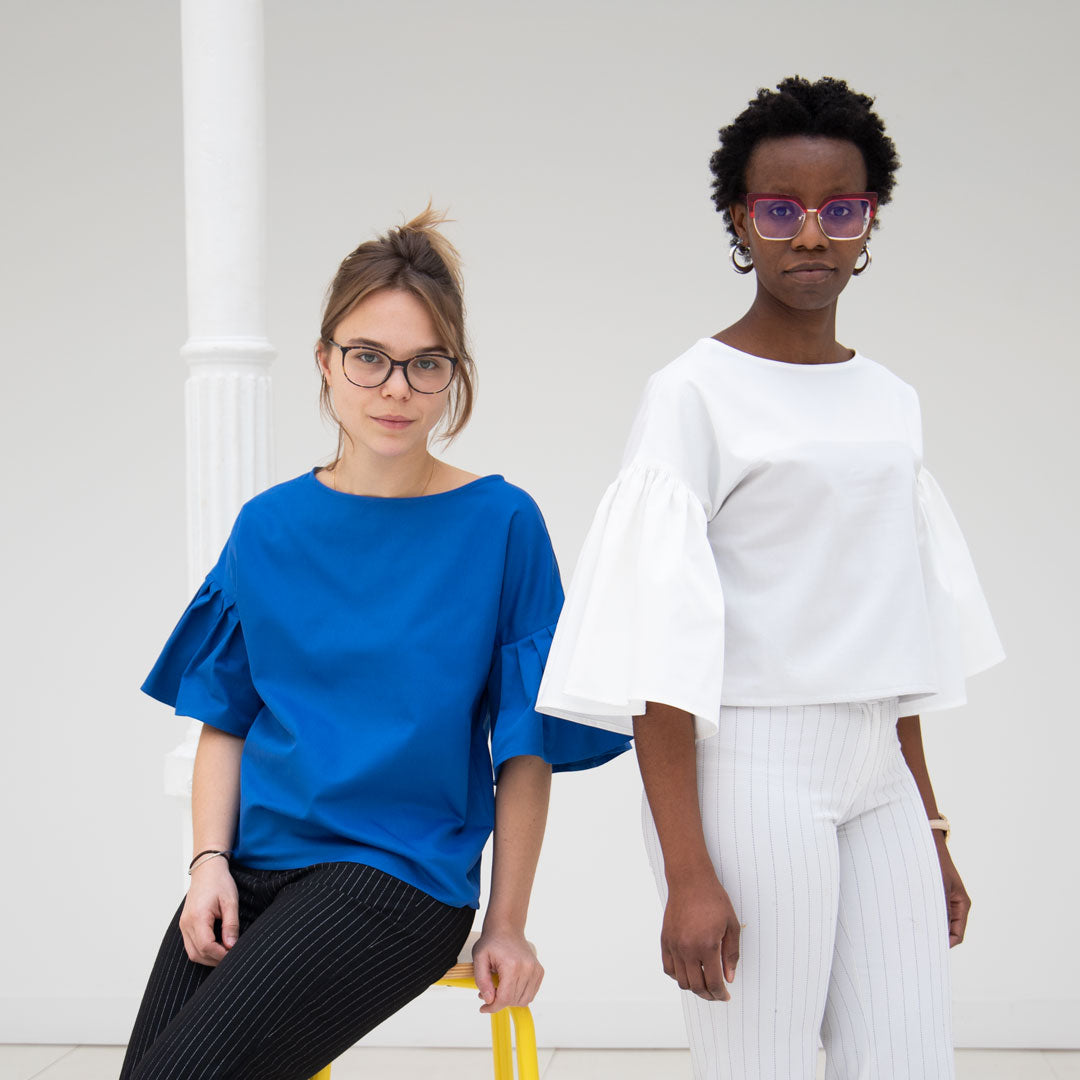 VIMPELOVA Boxy Top - Design & Sew workshop
With our guided course you will co-design and sew the top to your desire. At the end of the day, you will go home with your unique new top and new skills learned!
On Saturdays at 10h - 16.30h (last session on 16th of April)
Book your spot
Design your top, ...

Choose from design variations that fit best your unique style.
Pick one of three types of sleeves, three kinds of necklines and different length options.

...choose your fabric...

We offer a selection of organic cotton, Tencel or deadstock fabrics - subject to additional cost. Or bring your own fabric.

...and sew it!

Learn all the different steps - cutting the fabric, sewing seams, pleating sleeves and adding bias tape to finish off your top.
COURSE INFO
Practical

- For a friendly and qualitative experience, the number of participants is limited to 5

- price includes coffee & snacks, fabric not included

- the course runs from 10h - 16.30h on Saturdays and is given in English (we also speak Spanish, Czech and little Dutch)

- The course takes place in our atelier inside the design centre MAD Brussels, Nieuwe Graanmarkt 10, 1000

Tools & Material

- our studio is equiped with domestic and industrial sewing machines you can use

- should you prefer, you can bring your own machine

- we will provide all the necessary tools and sewing threads

Choosing your fabric

- Bring your own fabric - we will advise you what fabrics are suitable for this project and how much you need to bring ahead of the course

- Choose from our recommended natural organic fabrics (cotton satin, linen or Tencel) or deadstock fabrics. These can be purchased on the day of the course. We can send you photos of our stock prior to the class.

You will need aproximatelly 1 meter to make a top, or 2 meters to make a dress version. The price varies between 10€ - 20€ per meter.

Please send email to veronika@vimpelova.com to get assistance regarding your fabric choice.

Skills covered in the workshop

- choosing the design of your top, the fabric and finding out your size

- cutting the top in fabric with patterns provided by us

- sewing the top (assembling the seams, overlocking seams, pleating sleeves or body, gathering, attaching sleeves, attaching bias tape to a neckline, hemming)
Required skills

To participate in this course you should have some basic sewing skills: you are comfortable using a domestic sewing machine and have basic knowledge of garment construction. Pattern making skills are not necessary.

Refund policy

For practical reasons, any cancellation has to be submitted by e-mail at least 7 days before the start of the course. To cancel your attendance please email to veronika@vimpelova.com